CLUB DE SOCCER MONT-ROYAL OUTREMONT (CS MRO) WELCOMES FORGE FC TECHNICAL STAFF TO MONTREAL THIS WEEK
Club de Soccer Mont-Royal Outremont (CS MRO) is welcoming to Montreal this week recently crowned Canadian Premier League champions, Forge FC Hamilton. Over the course of this week, select technical staff from Forge FC has been working alongside CS MRO staff to provide top boys talents from the Club multiple technical sessions and game play. This is part of an overall plan to provide CS MRO teams and technical staff access to valuable programing of Forge FC and youth component Sigma FC, including player technical sessions, coach development, showcase events and friendly match series.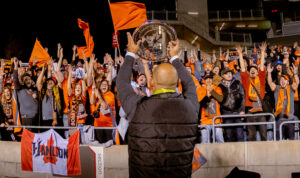 About Forge FC
Forge FC is a Canadian professional football club that competes in the Canadian Premier League (CPL) and play out of Tim Hortons Field in Hamilton, Ontario. Forge FC was founded in 2018, and since the inaugural 2019 CPL season have won a league most three North Star Shields. They also became the first CPL club to compete in the prestigious intercontinental competitions of Concacaf including Concacaf Champions League and Concacaf League tournaments. Forge FC represents the spirit of Hamilton's people, celebrating the city's industrious roots and ambitious future. Together, Hamiltonians Forge Ahead.